Richter Animal Hospital offers the following medical services for your canine and feline companions:
Preventive Medicine - nose-to-tail examinations, vaccinations, routine blood testing, parasite prevention & control, nutritional counseling and behavioral counseling
Senior Care - Senior Pets often need a little extra love and attention, and our goal is to make sure that they remain energetic, mobile and pain free.
Dentistry and Dental Radiology
Surgery - Spay/Neuter, Declaw, Mass Removals, Orthopedic Surgery, and much, much more
Hospitalization - We offer hospitalization for pets that need to be monitored closely and kept on intravenous fluids and/or medications. While we do not offer 24-hour care, we will be happy to keep your pet hospitalized overnight if that is the best option.
Laboratory Diagnostics - Chemistry, Cytology, Urinalysis, CBC (complete blood count) and Histopathology
Diagnostic Imaging - Radiology & Ultrasound
Diabetes and Chronic Disease Management
We will be happy to provide estimates for any and all treatments, surgeries, or hospitalizations.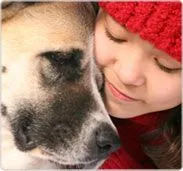 Choosing the Best Veterinarian for Your Pets
It is so important to choose a veterinarian who is calm, compassionate and willing to explain all the procedures your pet undergoes. Try to find a vet with whom both you and your pet feel comfortable, and make sure that the facility is clean, modern, and well equipped with up-to-date diagnostic, surgical and dental equipment.
At Richter Animal Hospital we use the safest anesthesia available. If your pet needs anesthesia for a surgical or dental procedure, our skilled technicians will monitor their blood pressure, temperature, heartrate and oxygenation throughout. Because of the general risks inherent to anesthesia, all surgical and dental patients undergo a comprehensive pre-anesthetic blood panel to ensure their is no underlying disease that could increase their anesthesia risk. Our standard protocol is to run warm intravenous fluids throughout the procedure to help maintain core body temperature and appropriate blood pressure. Pain control is our top priority in all situations, and we provide optimal pain management for every patient pre and post-surgery; in most situations, your pet will also be sent home with pain medications to ensure they recover comfortably.
There is absolutely no reason for your pet to incur excessive stress when going to the veterinarian. The Richter Animal Hospital team will do everything possible to make your pet feel safe and comfortable and avoid increasing their fear and anxiety. If we feel it is in their best interest, we will ask for permission to sedate your pet, or offer you medication to sedate them before coming in. One of our favorite suggestions, when appropriate, is to bring your pet in for "happy visits" so that they learn to enjoy the process - we will give them love, treats and a tour of the clinic so they can meet everyone and learn that going to the vet doesn't have to be a stressful, anxiety-producing event!
Scheduling an Appointment

Our team will attempt to accommodate all appointment requests to the best of our ability.
We are also available for urgent, same-day care. Our veterinarians will work to "squeeze" you in between scheduled appointments. When you arrive, we will be able to give you an estimate on how long you may have to wait in order to be seen.

Emergencies are accepted anytime our clinic is open. If your pet has a medical emergency, please head straight to the hospital. Give us a call when you are on your way so that we can be fully prepared for your arrival.