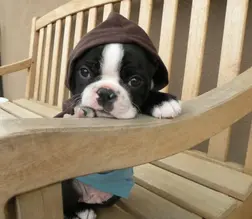 At Richter Animal Hospital we believe that prevention and early detection is the absolute best medicine & we highly recommend that you bring your pet in to see us
at least
once per year for the following preventive care services:
Comprehensive Physical Exam
A veterinary technician will greet you and your pet and start the appointment by getting a thorough history and recording your pet's weight, temperature, pulse and respiration. The veterinarian will then examine your pet from nose to tail, paying close attention to eyes, ears, lumps and bumps, skin/coat and body condition. They will discuss any concerns or changes, make recommendations based on their findings, and answer any question you may have. The veterinarian will also provide education on nutrition and supplements and make customized recommendation based on your pet's age, weight and health status.


Dental/Oral Health Exam
Oral health is just as important for pets as it is for people! The bacteria from untreated dental disease can lead to serious, systemic problems such as heart disease. The veterinarian will assess your pet's oral health and advise you as to whether a dental cleaning and radiographs under anesthesia are recommended. We will also recommend a dental home care regimen for your pet to help keep bad breath, tartar and bacteria at bay.


Vaccinations
Our vaccine recommendations are always based on current health, previous history, and any potential risk factors.
In order to take advantage of our boarding, grooming and daycare services, all pets will need to be current on vaccinations. For cats this includes FVRCP, Feline Leukemia and Rabies. For dogs this includes DAPP, Bordetella, Bivalent Influenza and Rabies. We also highly recommend that most dogs be vaccinated for Leptospirosis, and you should discuss your pet's risk factors with us on an annual basis.


Annual Heartworm Test (canine)
Due to our climate, and the fact that heartworm disease is spread by mosquitos, Texas is always in the top 10 when it comes to the number of positive canine heartworm diagnoses every year. The good news is that with annual testing and year-round prevention your canine companion will not fall prey to this deadly disease. Click here

to learn the facts about heartworm disease from the experts

.


Intestinal Parasite Test
When you schedule a wellness appointment for your pet, you will be asked to bring in a fecal sample. Why? Because a fecal test enables your veterinarian to determine if your pet has an intestinal parasite infection such as roundworms, hookworms, whipworms, coccidia and giardia. Since intestinal parasites live in your pet's gastrointestinal tract, they are usually hidden from view. It is also important to understand that intestinal parasite infections are considered zoonotic diseases, which means they can be passed from animals to humans - a very important reason to keep your pet free from intestinal parasites.
Early Detection Blood Panel
Routine blood work can uncover all sorts of health issues, including anemia, problems with protein levels, kidney and liver problems, blood sugar irregularities, and many other conditions that may need further investigation and treatment. Screening your pet annually also provides a baseline and trend data that enables your veterinarian to catch and treat small changes early on, before they become more serious.


Heartworm, Flea and Tick Prevention
The climate in Texas means that it is very important that your pets are protected from fleas, ticks and heartworms all year-round. Our veterinary team will discuss the options available and help you choose the one that is best for you and your pet. There are now tablets and topicals that incorporate coverage for all three parasites, as well as an injectable heartworm preventative that provides your dog with 12-months of coverage (sorry feline friends, it's not available for cats), so you never risk missing a dose again!
Richter Animal Hospital Team Recommendation: Keep a Pet Health Diary
It's a good idea to keep an accurate medical diary not only of the procedures and vaccinations your pet receives at the vet, but also of notes on things like your pet's elimination habits and any physical changes or unusual occurrences. Keep track of small shifts in your pet's behavior, including urinary marking habits and mood swings, along with diet and routine modifications. Take this notebook when you visit the vet. These seemingly unrelated occurrences may help provide important insights and help your veterinarian determine whether medical intervention and/or diagnostics may be needed.
FUN TIP: Download our mobile APP on your Android or iPhone device and use the notes section to keep a diary for each of your pets!