Dr. Lee M. Richter
Dr. Richter opened his practice in Arlington in 2004. He earned his Doctor of Veterinary Medicine degree from Texas A&M University in 2000 after previously earning a Bachelors in Veterinary Science from Texas A&M. Dr. Richter is shown with his wife Karen and three daughters Morgan, Alex, and Ryan. The Richter family also includes 3 dogs, a Maltese named Roxie, a terrier mix named Ava and a malti-poo named Lulu. Dr. Richter enjoys spending time with his family, golfing, and all things Aggie!
---
Dr. Jaynie McDaniel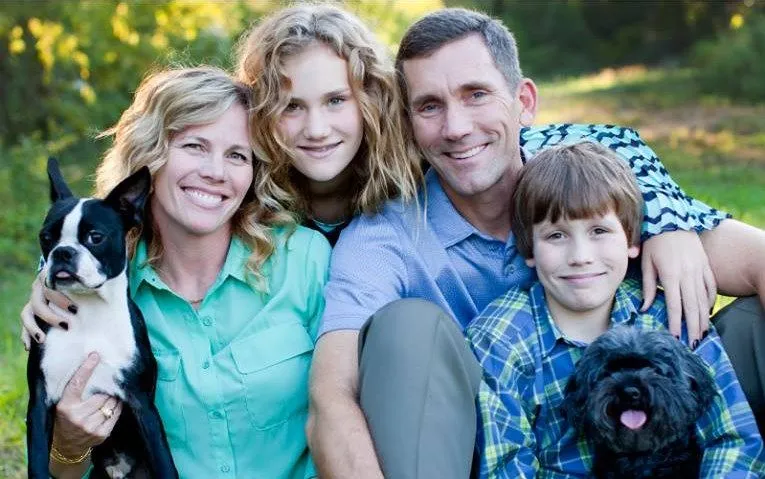 Doctor Jaynie McDaniel earned her Doctor of Veterinary Medicine degree from the Texas A&M University College of Veterinary Medicine after having obtained her Bachelor of Science degree from Rutgers University. Doctor McDaniel served on active duty for more than six years in the U.S. Army as an enlisted soldier before pursuing her civilian education. She and her husband Mike have two children, Grace and Will. Their family also includes Sadie, a rescued poodle mix, Hico a Boston Terrier, Woofie, the kitty, Murtle (the former Richter AH turtle) , Rhino and Mo (two occasionally lost hamsters), many unnamed fish and Silver ( a naughty pony). She spends her free time outdoors with her family hiking, traveling, skiing and running.
---
Dr. Tony Randolph
Dr. Randolph is a Fort Worth native who graduated from Texas A&M College of Veterinary Medicine in 2008. After one year of practice in Denver, Colorado, he moved back to Fort Worth where he lives with his wife Nikki, 2 sons Jackson and Aidan and their two dogs, Fletcher a Golden-Doodle and Hershey a long haired Dachshund. He has special interests in internal medicine, dentistry, and radiology. Outside of veterinary medicine, Dr. Randolph enjoys spending time with his family outdoors, hiking, camping, and fly fishing.
---

Dr. Eleanora Dolan
Dr. Dolan graduated from St. Matthew's University School of Veterinary Medicine in 2020 after getting her major in Biochemistry and minor in Neuroscience at Elon University. Her special interests include surgeries, physical therapy, and behavior. Outside of veterinary medicine Dr. Dolan loves to draw, paint, hike, work out, and be active. She has had a love for animals since childhood, and she found her home at RAH in April of 2021.
---
Dr. Samantha Means
Dr. Means grew up in Plano, and knew she wanted to be a veterinarian from the time she could pronounce the word. She graduated from Texas A&M's College of Veterinary Medicine in 2019 after obtaining her Bachelor's in Animal Science from Texas Tech. After leaving Texas A&M, she moved back home to the DFW area and worked at a hospital in Saginaw before settling on RAH as her home hospital. Dr. Means is especially passionate about preventative care, dermatology, senior pets, and pain management. Dr. Means and her husband, a police officer, got married in 2020 and together they enjoy traveling and spending time outdoors. Their lives revolve around their 2 Labradors, Leddy, a chaotic yellow lab who is always on the go, and Ruger, a lovable senior chocolate lab that served as the dog of honor in their wedding.