Dr. Lee M. Richter
Dr. Richter opened his practice in Arlington in 2004. He earned his Doctor of Veterinary Medicine degree from Texas A&M University in 2000 after previously earning a Bachelors in Veterinary Science from Texas A&M. Dr. Richter is shown with his wife Karen and three daughters Morgan, Alex, and Ryan. The Richter family also includes 3 dogs, a Maltese named Roxie, a terrier mix named Ava and a malti-poo named Lulu. Dr. Richter enjoys spending time with his family, golfing, and all things Aggie!
---
Dr. Jaynie McDaniel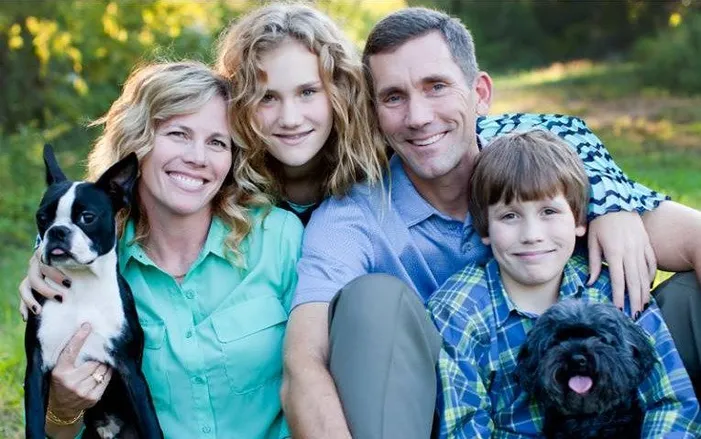 Doctor Jaynie McDaniel earned her Doctor of Veterinary Medicine degree from the Texas A&M University College of Veterinary Medicine after having obtained her Bachelor of Science degree from Rutgers University. Doctor McDaniel served on active duty for more than six years in the U.S. Army as an enlisted soldier before pursuing her civilian education. She and her husband Mike have two children, Grace and Will. Their family also includes Sadie, a rescued poodle mix, Hico a Boston Terrier, Woofie, the kitty, Murtle (the former Richter AH turtle) , Rhino and Mo (two occasionally lost hamsters), many unnamed fish and Silver ( a naughty pony). She spends her free time outdoors with her family hiking, traveling, skiing and running.
---
Dr. Tony Randolph
Dr. Randolph is a Fort Worth native who graduated from Texas A&M College of Veterinary Medicine in 2008. After one year of practice in Denver, Colorado, he moved back to Fort Worth where he lives with his wife Nikki, 2 sons Jackson and Aidan and their two dogs, Fletcher a Golden-Doodle and Hershey a long-haired Dachshund. He has special interests in internal medicine, dentistry, and radiology. Outside of veterinary medicine, Dr. Randolph enjoys spending time with his family outdoors, hiking, camping, and fly fishing.
---

Dr. Bri Franklin
Dr. Franklin was born in Tulsa, OK and wanted to be a veterinarian since the age of 4. She received her undergraduate degree from Cameron University where she majored in agriculture, with a focus on animal science, and minored in chemistry. She attended veterinary school at Oklahoma State University and then moved to the metroplex where she practiced at a Dallas clinic for about six years. Dr. Franklin now lives in McKinney and commutes daily to Arlington to work at RAH...and we are so happy that she does! Her 4-legged family consists of 2 cats and 2 dogs (Rufus is pictured below), and when it comes to veterinary medicine her special interests include surgery, pain management, and internal medicine. Dr. Franklin is a self-proclaimed 'foodie,' and loves to watch movies, but her most unique hobby is collecting shoes...by her count she currently owns close to 200 pairs!
---
Dr. Caitlin Oliver
We are delighted to welcome Dr. Caitlin Oliver to the RAH team of veterinarians! You may even recognize Dr. Oliver - not just because she was born and bred in Arlington, but because she worked as a technician at RAH during her school breaks! We are over the moon that she chose to return to us once she received her doctorate of veterinary medicine from Texas A&M in May of 2023. Dr. Oliver lives with her fiancé, Diego, and her senior cat Peyton (pictured here). Peyton has played a major role in her life since the age of 11 and was her self-appointed study buddy all through vet school. When it comes to medicine, Dr. Oliver's special interests include radiology, surgery, and orthopedics. Now that she is done with school, she is excited to have more time to enjoy other interests, such as reading (for fun!) and cooking.
---
Dr. Jessica Haynes
Dr. Haynes was born and raised in a small town outside of Beaumont, Texas. She received her undergraduate degree in Biomedical Sciences from Texas A&M in 2015, and then went on to receive her Doctorate of Veterinary Medicine from Texas A&M in 2019. Prior to moving to Mansfield in June of 2023, Dr. Haynes lived and worked in San Antonio, where she developed special interests in dermatology and internal medicine. She and her husband, a dentist in Midlothian, share their home with two Goldendoodles, Raven and Honey (pictured here), and two cats, Ebony and Bella. When not working, Dr. Haynes enjoys reading, cooking (she too is a "foodie") and going on adventures with her husband and fur babies. She is currently training to run a marathon in December of 2023!
---

Dr. Samantha Means
Dr. Means grew up in Plano, and knew she wanted to be a veterinarian from the time she could pronounce the word. She graduated from Texas A&M's College of Veterinary Medicine in 2019 after obtaining her Bachelor's in Animal Science from Texas Tech. After leaving Texas A&M, she moved back home to the DFW area and worked at a hospital in Saginaw before settling on RAH as her home hospital. Dr. Means is especially passionate about preventative care, dermatology, senior pets, and pain management. Dr. Means and her husband, a police officer, got married in 2020 and together they enjoy traveling and spending time outdoors. Their lives revolve around their 2 Labradors, Leddy, a chaotic yellow lab who is always on the go, and Ruger, a lovable senior chocolate lab that served as the dog of honor in their wedding.